Visitation-St. Ann Shrine Church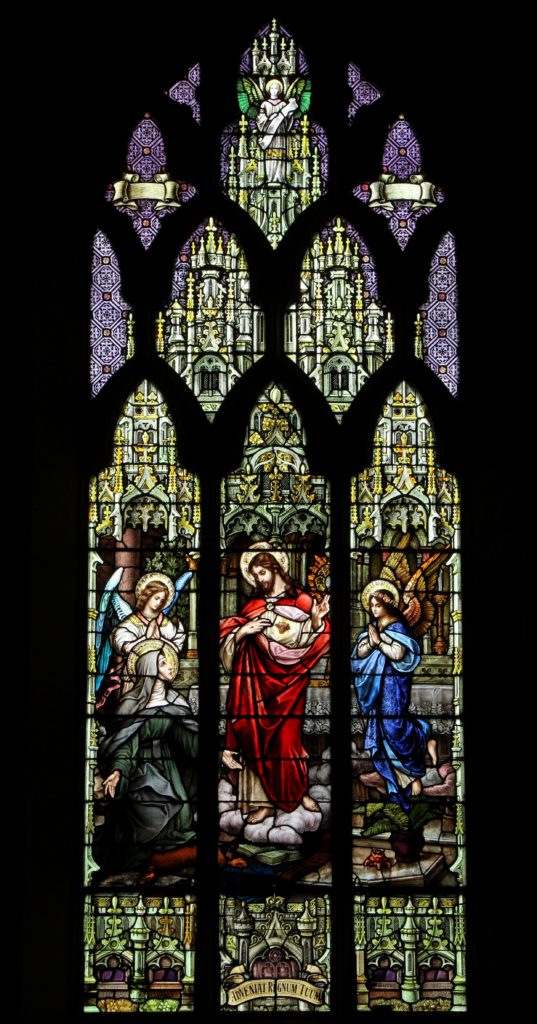 In 2016, the Roman Catholic Archdiocese of Saint Louis made the difficult decision to close the parish at Visitation-St. Ann Shrine and prepare the church for resale. Emil Frei and Associates was asked to remove the beautiful stained glass that was produced by our company nearly a century earlier. The removed windows would be placed into storage for eventual reuse and new clear glass windows would be installed in their place.
The removal was a delicate but straightforward process. Windows were carefully removed, photographed, their condition documented, and prepared for long term storage. The wood window tracery was not destroyed. Instead it was partially disassembled and removed. The condition of the wood tracery and dimensions were recorded in order to be reused or replicated in the future.
In place of the removed windows and tracery Emil Frei Installed a new aluminum framing system with tinted glazing. The interior of the thick walls was partially exposed once the tracery was removed so Emil Frei craftsmen installed new window jambs and sills to conceal the wall cavities. The church building has since been sold. The stained-glass windows are currently in storage but are planned for reuse in a church currently under design.  Because of our thorough notation and careful disassembly of the windows the new design will be able to maintain the original window configuration and tracery profiles. The new owners are excited to be able to reuse these beautiful windows and preserve a piece of a once vibrant parish's artistic history.
As experts in planning and design of new windows, the transition toward helping churches plan for the reuse of existing windows is a service naturally suited to us.  And our expertise in stained glass restoration has made it possible for us to provide a viable future for reclaimed stained glass.
Project Details
14 large windows salvaged
Wood window tracery partially disassembled and removed
Long-term storage/photographic and condition documentation
Client
Archdiocese of Saint Louis, Saint Louis, MO
---
---